Gloss Kitchens
As their name suggests, high gloss kitchens are characterized by a highly recognizable glossy surface shine that exudes no less than high standards of cleanliness, brightness, and style wherever used.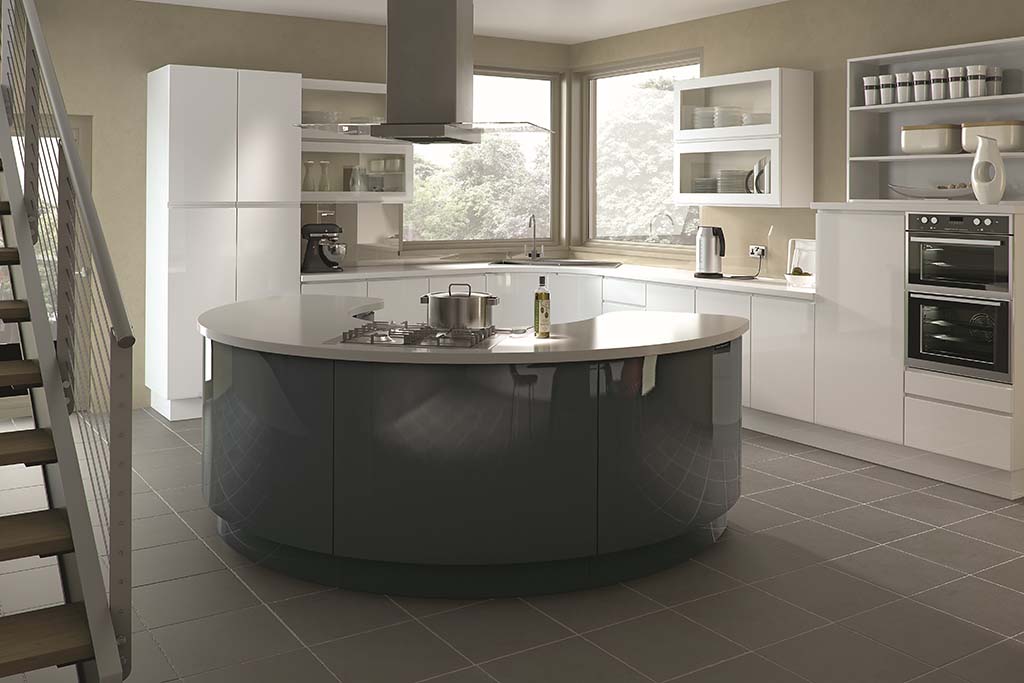 The high gloss finish collection has an extensive range of colour, shades, and finishes that can be tailored to almost any individual taste and desire while staying true to the long-standing reputation of this great finish as one of the most popular in the world when it comes to beautiful kitchens with clean lines.
With integrated appliances, your new bright white gloss kitchen will be light, stylish, modern with all the space maximising qualities and storage options you would expect from a professionally designed kitchen layout.
Choose from any colour and surface finishes in the range. From initial design right up to getting it installed, we have a service to suit every budget. Our kitchen design team can take your initial idea and create something beautiful that will stand the test of time.
Deciding on the style of kitchen you're going for can seem like a big decision.
Our modern kitchens are all about being practical, comfortable and durable.
Sometimes it can be hard to decide which styles will work best in your home – so we've put together some ways you can find out more about the sort of finish that's right for you and your home.
Gloss Kitchens
In terms of an aesthetically modern kitchen, there are surely no better choices than glossy finishes. An elegant, high gloss kitchen that transforms dark, dull spaces into vibrant light spaces.
Add some tradition by matching textured units to wooden worktops.
We have handleless gloss kitchens ideal for people wanting to add sleek touches to an original design, giving your new kitchen doors that modern touch. Couple this with integrated appliances and your new kitchen will look amazing.
Fans of bright colours will enjoy a wide assortment of colours available, from white gloss to cream glossy kitchen designs. Whether your kitchen is dark grey, gloss or white, our designers can create the perfect kitchen just for you.
Manufactured on-site at our purpose-built factory in Kilkenny, Ireland, Right Price Kitchens covers everything from the planning process and design through to the construction of cabinets, frame, and on to the finished product, at unbeatable prices. Check out all our quality designs, colours and styles, and read some of our testimonials from our happy clients.
Access to our showrooms is by appointment only so click below and fill in the form to book in today. Our kitchen price options are designed to suit every budget.
High gloss kitchens
It's important to recognize that quality laminate kitchen doors differ significantly between manufacturers… However, our processes have evolved in the same way that beautiful laminate door designs are harder to distinguish from high-quality cabinet finishes.
The doors have a PUR – Hot-melt adhesive that protects against deterioration, as well as providing high water temperature and bacteria resistance. It is so easy to maintain and use and increases longevity and durability.
If a high gloss kitchen with a spacious layout and plenty of storage is on your wishlist then send us your contact details and one of the team arrange a call or come visit our showrooms and explore some of the contemporary high gloss kitchens we have on display.
The delight of a beautiful gloss kitchen
A gloss kitchen door has an elegant, contemporary feel while its dazzling shine ensures an inviting feel. The glossy kitchen windows are smooth in their appearance and reflect light on the surface.
It is important in kitchen planning, primarily for smaller kitchens where maximizing space is an essential part of planning processes. Flush gloss doors in a kitchen layout bounce light around the room giving you a sense of extra space.
A broad selection of gloss colors and finishing materials ensures the achievement of numerous designs.
You will be in the kitchen everyday and with the right design, contemporary style and lighting make sure it's from Right Price Kitchens.
High Gloss Lacquer Kitchens
A gloss finish kitchen's appeal lies within the lustrous deep polished finish. Finished with polished glass doors, create a classic, elegant look.
The highly specialized machinery makes the gloss lacquer kitchen an extremely high-performance and robust choice.
During the repeated spray coating process the pigments are slowly absorbed into the wood and developed into an even colour, creating a very durable finish. A smooth door with a clear reflective gloss kitchen surface.
High Gloss Laminate kitchens
Our gloss kitchen finish is one of our most popular for people looking to deck out their kitchen in a high gloss laminate which offers unparalleled value for money.
With its durable surface and an aesthetically pleasing finish, it will also allow for a number of different design styles too as well as a high-quality look that is at once contemporary but that also isn't out of place among more traditional furnishings either.
We have a range of colours and textured finishes to choose from, making it very simple to match your kitchen perfectly whether you want something slightly dramatic or more subtle.
Kitchen Layout, Planning & Clean Lines
When it comes to planning out your kitchen or any room in the house, it helps to get advice from a company that has the experience to bring your ideas to life.
We strive for excellence and it's our attention to the details that put our company out in front on style, design, quality, and prices.
We also supply bespoke kitchen sink options, from composite to Belfast sinks, that will take the gloom out of washing up.
We can provide an example of any of our kitchens in the range, in any number of colours or shades, from high gloss to painted kitchen designs, along with our expert advice that will be the difference between a kitchen layout that you like, and a kitchen that you love.
Right Price Kitchens have been providing services in Ireland for over 60 years, with gloss kitchens, our wood kitchen range, top of the line integrated appliances, and space-saving kitchens, whilst always maintaining a very high level of quality control and professionalism.
There is a style for everyone in the range, just pick a colour, a door style, the right light settings and you are good to go. We can advise on stone and colour stone countertops for your new kitchen.
Feel free to browse around our website at all the kitchen designs for inspiration and then give us a call.
Get in touch with us on 056 7794559 to book an appointment for our showrooms and let's get this project started.
Get Started
Feel free to browse around our website at all the kitchen designs for inspiration and then give us a call.
Get in touch with us on 056 7794559 to book an appointment for our showrooms and let's get this project started.